The Dude is Ready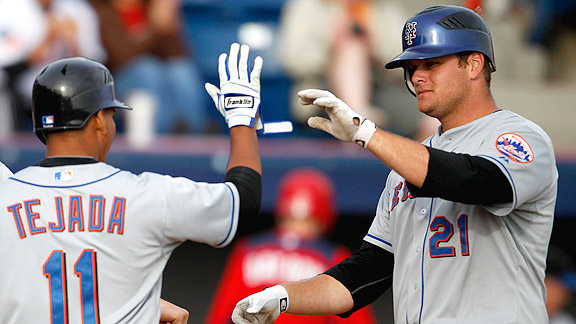 Lucas Duda isn't your typical baseball player. At times, he resembles a lumberjack. Other times, he resembles one of those big teddy bears you win at a carnival. But does he look like the starting first basemen for the Mets?
At this point in the season, the Mets have climbed back up the Repunzel's hair. Repunzel, the Texas Rangers, left his (her) hair for the princess. The magical .500 mark! However, Lucas Duda and the Mets climbed up instead. On Saturday, Lucas Duda was the knight in shining armor.
Sure, the numbers aren't sexy. A combined line of .288/.292/.316 in 65 plate appearances, Duda's power hasn't translated at the major league level. The reason is because he hasn't had a chance to play every day. Duda has only started in 19 games this season and was recalled twice. Manager Terry Collins hasn't seen the obvious: if Duda gets his at-bats, the numbers will come.
Saturday was Lucas Duda's breakout party. Duda collected 4 hits in 5 at-bats, against one of the American League's best pitchers, Alexi Ogando. He tallied 3 doubles, smacking in 4 runs. And of course, Lucas Duda is benched the next day because the Mets were facing Derek Holland, a left-handed pitcher who has seen his share of abuse in the past.
According to FanGraphs, Duda's BABIP (Batting Average Balls in Play) is .277 this season. It's not sexy, but he brings a lot more to the table than fan-favorite Daniel Murphy. For one, Duda's fielding at first base is far superior to Murphy's. To Murphy's credit, he is not a first basemen. Duda has that typical first basemen's mold, a 6-foot-5 tree to throw against.
Murphy isn't a power hitter, Lucas Duda is. Minor league numbers don't mean much until you prove them at the next level. Murphy never had significant pop in his bat. In 2008, he hit 13 homeruns for the Mets. Duda last season hit 27 homeruns in 3 levels last season, including 4 HRs in 92 Major League plate appearances. Murphy is a line drive type hitter who can occasionally hit a nice homerun. When Duda connects, he bruises the ball in such a way you expect to hear a scream of pain erupt from the stitching.
And my final reason why Duda should start: it just makes sense. The Mets as an organization haven't taken a chance on a prospect since Murphy. And the reason Murphy was given a chance was because the Mets had a depleted roster. To go back, the Mets only gave Jose Reyes and David Wright a valid chance to prove themselves for more than a 15-day span. Lucas Duda showed on Saturday what he is capable of. He hit against one of the American League's most dominant arms this season.
It's just a matter of time before manager Terry Collins realizes what he has in front of him, a big carnival teddy bear ready to mash.