Feel Good Friday II: Johan, Jose and a Bottle of Wine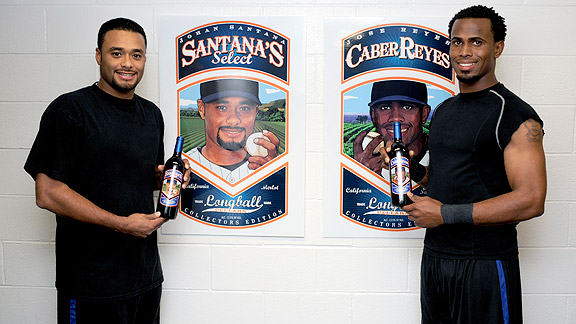 ESPN reports that Jose Reyes is joining Johan Santana and 23 other players who have lent their name and likeness to a series of wines that are being sold for charity:
So far, players have included Jorge Posada (Jorge Cabernet), Kevin Youkilis (SauvignonYoouuk Blanc), Derrek Lee (CaberLee), Johan Santana (Santana's Select) and Tom Glavine (Cabernet Glavingnon) to name a few. For 2010, it is Josh Beckett (Chardon-K) and Jacoby Ellsbury (ZinfandEllsbury). The strategy has been to go after the big names in each market, and almost no one has said no. [ESPN]
Reyes' wine – CaberReyes – will be part of the ¡Viva Baseball! exhibit at the Baseball Hall of Fame in Cooperstown, NY.
The wines are produced by Massachusetts-based Vinlozano Imports, as part of the Longball Cellars Collection.
With their Massachusetts location and several Red Sox players already featured, I'm surprised there is no Lou Merlot-ni or Bernie Carbo-net Sauvignon.